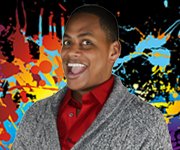 Boli Valera, is a pioneer of radio and television. Boli's recent arrival has had an immediate positive impact on ratings. As an actor from the Dominican Republic, Boli brings years of experience with him.

With his daring and charismatic attitude, Boli has spent a great part of his life in front of the camera and mic.

Boli can now also be heard on 93.1 AMOR On La Bodega de La Manana every M-F 6am-10am. This entertainment oriented show compiled with the best in Spanish music will sure to be a hit.

Articulos
MÁS DJ'S