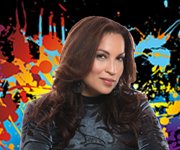 Gloria Broussard, better known as Gloria B, has successfully and efficaciously outshined in various media platforms. Named one of "The hottest Latinas in New York" by the NY Post, Gloria has reigned 93.1 FM Amor from 2000-2012 with her remarkable voice.

Gloria has returned to AMOR the place she calls her "home" , and still holds her title. Gloria host her show "El Show de Gloria B," which is highlighted by her originality and charismatic character. Gloria creates a show in which her audience can connect and identify with her. Through her captivating voice she spreads positive energy and zealousness to her audience.

A true feminist, Latina, mother, a motivated hard worker 100%... this defines Gloria B. Gloria B is back to stay!
Gloria B