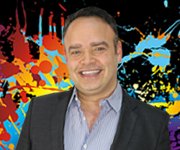 Alfredo Galván- Mr. Galván holds an MFA in Theater Directing from Columbia University where he trained with directors and actors such as Anne Bogart, Andrei Serban, Marcus Stern, Priscilla Smith, Robert Woodruf and Kristen Linklater. His love of the theatre started when he was living in his native Puerto Rico, where he obtained his BA in Drama from UPR. He acted in more than 25 plays and appeared on TV Soap Operas (Telemundo's Tres Destinos and Señora Tentación) and documentaries. NY acting credits include Julius Caesar by William Shakespeare with Andre DeShields (Horace Mann Theatre); Infieles by Marco Antonio de la Parra (Repertorio Español), El Beauty Parlor by Iris Silverio and Luis Alvarez (Copacabana and Chashama Theatre productions), and the independent feature film Someone Else.

NY and out of state directing credits include Evening Walk by Teresa Marichal Lugo (Repertorio Español, NY Fringe, ICPR and UConn), The House of Bernarda Alba by Federico Garcia Lorca (MFA thesis) and Spin by Christopher Piehler (Blue Light Theater Co.). Other favorite projects include his translation of the Auto Sacramental Life is a Dream by Calderón de la Barca directed by George Drance (Saint John the Divine Cathedral, Marquette University Milwaukee, Wisconsin and La Mama, NY), Vieques by Jorge Gonzalez (2000 ACE Award for Best Production of the Year), The Macy's Account by Jason Shafer and Sherri Langsam (Duplex Theater and 2001 San Francisco Fringe Festival), Remembrance by Judythe Cohen, (2001 ChekhovNOW Festival), The San Juan Shakespeare Company (Spanish Repertory Theatre), Latinas Don't PMS by various authors (Café Remy and Apollo Theater), Barriolesque (Nuyorican Poets Café) and Carrots by Antonio Zancada, starring Miss Universe 2001 Denise Quiñones (2006 ACE Award for Best Director).

From June 2001 until September 2010, Galván was part of the ACE Award winning radio show Amor Temprano en la Mañana, Monday through Friday from 5:30-11am on WPAT-FM 93.1 Amor. He was also one of the judges of the fashion police segment "El Veredicto", every month in People en Español Magazine. He was co-host of Telemundo's Acceso Total alongside Odalys Molina, Evi Siskos and Audris Rijo Monday through Friday at 10 am on Telemundo 47, and was the co-host of the show Club de Compras on Telemundo Boston and Telemundo Philadelphia. He now co-hosts 93.1 Amor's newest morning show "La Bodega de la Mañana".
 
Alfredo Galván- Posee un MFA en Dirección de Teatro de la Universidad de Columbia, y ha actuado y dirigido varias obras de teatro en Puerto Rico y los Estados Unidos. Incluyendo las obras ganadoras de premio ACE, "Vieques" de Repertorio Español, y Zanahorias, protagonizada por la ex Miss Universo Denise Quiñones. Desde Junio del 2001 hasta Septiembre del 2010, Galván fue parte del programa radial "Amor Temprano en la Mañana", de 93.1 Amor. También colaboró como juez en la sección de moda "El Veredicto" de la revista People en Español. En el 2011, Galván regreso a la radio con su compañera, Gloria B., todas las tardes de 3 a 7 pm por 93.1 Amor. Además fue parte del programa de entretenimiento "Acceso Total" de Telemundo 47 y de un programa de ventas por televisión, "Club de Compras" transmitido en Boston y Philadelphia. En el 2017 vuelve a unirse al programa mañanero de 93.1 Amor, "La Bodega de la Mañana".

Alfredo Galvan