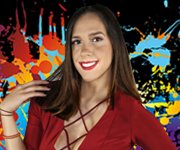 Arlette Borelli, a young talent, brings an original, sexy, daring and dynamic style to the mornings on AMOR 93.1 FM.
Arlette, born in the Dominican Republic, has
spent a greater part of her life behind a microphone. She started her radio career as an announcer in Miami and continued to pursue her dream and enrich her talent. Her experience in the field has contributed to the outstanding skills she displays everyday as a morning on-air talent at WPAT – 93.1 AMOR.
Arlette Borrelly